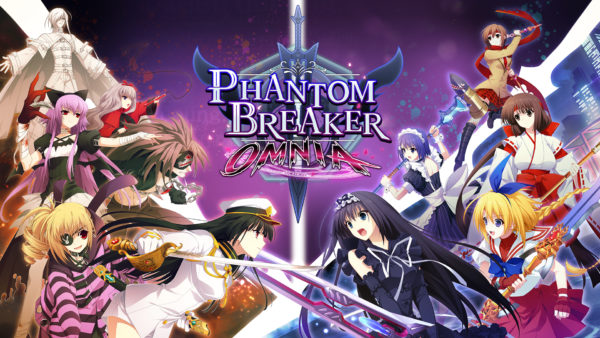 Phantom Breaker : Omnia
Rocket Panda Games vient de publier sa bande-annonce en anglais pour Phantom Breaker : Omnia, le prochain jeu de combat en 2D de type anime. Il sortira sur PlayStation 4, Xbox One, Nintendo Switch et Steam (PC) pour début 2022.
Les voix anglaises de The Phantom Breaker: Omnia utilise le talent des doubleurs suivants:
Luci Christian – Cocoa (Ochaco dans My Hero Academia)
Monica Rial – Fin (Stocking dans Panty & Stocking)
Joe Zieja – Infinity (Achilles dans Fate / Apocrypha)
Erica Lindbeck – Itsuki (Futaba Sakura dans Persona 5)
Sarah Williams – M (Jinx dans League of Legends)
Kira Buckland – Mei (Mary Saotome dans Kakegurui)
Erica Mendez – Mikoto (Retsuko dans Aggretsuko)
SungWon Cho – Phantom (FL4K dans Borderlands 3)
Alejandro Saab – Ren (Leon dans Pokemon Journeys)
Caitlin Glass – Ria (Cammy White dans Street Fighter V)
Lilypichu – Rin (Mina dans Ethereal Enigma)
Laura Stahl – Shizuka (Aiger Akabane dans Beyblade Burst Turbo)
Felecia Angelle – Sophia (Toru Hagakure dans My Hero Academia)
Matt Mercer – Tokiya (McCree dans Overwatch)
Cristina Vee – Waka (Noel dans BlazBlue)
Amber Connor – Yuzuha (Faye dans Fire Emblem)
Carrie Savage – Rimi (Celica A. Mercury dans BlazBlue: Cross Tag Battle)
Trina Nishimura – Kurisu Makise (Mikasa Ackermann dans Attack on Titan)
Patrick Seitz – Gaito (Dio dans JoJo's Bizarre Adventure)
Daman Mills – Ende (Frieza – Dragon Ball Super)
Phantom Breaker : Omnia est un jeu de combat en 2D thème anime au rythme rapide qui met en scène 20 personnages uniques, opposés les uns aux autres pour réaliser leurs plus grands souhaits. La possibilité de choisir entre 3 styles de combat séduira les joueurs chevronnés tout en rendant le jeu accessible aux nouveaux venus. Le jeu met en scène deux personnages invités, Kurisu Makise de Steins;Gate et Rimi Sakihata de Chaos;Head, ainsi que deux nouveaux personnages créés spécialement pour Phantom Breaker : Omnia.
SOURCE : COMMUNIQUE DE PRESSE – ICO PARTNERS