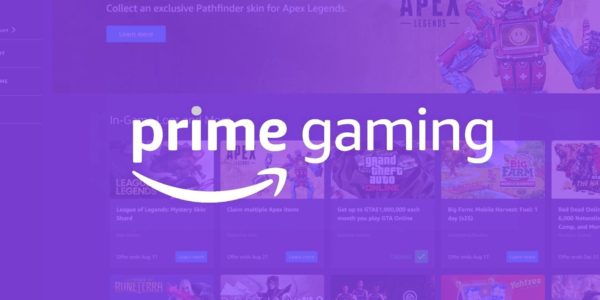 Prime Gaming
Ce mois-ci, Prime Gaming propose de nouveaux jeux gratuits et du contenu en jeu pour les titres phares du moment, notamment :
Du contenu exclusif pour League of Legends, Rainbow Six Siege et FIFA 21 et bien d'autres
La liste de Jeux Gratuits avec Prime inclut Yoku's Island Express, Healer's Quest Beholder, The Blind Prophet et A Blind Legend
Les membres Prime peuvent profiter de ces offres sur le site gaming.amazon.com. Pour rappel, les offres Prime Gaming sont disponibles pour une durée limitée, alors faites vite avant qu'elles ne disparaissent !
Découvrez ci-dessous tout le contenu et les jeux à venir en mai, ainsi qu'un tout nouveau clip Prime Gaming qui présente les offres les plus importantes du mois.
Vous trouverez des informations sur le programme de ce mois, ainsi que les dernières et meilleures nouvelles de Prime Gaming sur le blog de Prime Gaming. Téléchargez les assets ici.
Retrouvez l'ensemble des offres du mois dans le document en pièce jointe ainsi que dans la vidéo ci-dessous.
Calendrier Mai 2021
Disponible Maintenant Contenu Destiny 2 Drop 6
Disponible Maintenant Contenu Epic Seven Drop 8
Disponible Maintenant Contenu Fall Guys Drop 5
Disponible Maintenant Contenu FIFA Drop 4
Disponible Maintenant Contenu Last Day on Earth Drop 2
Disponible Maintenant Contenu League of Legends Drops 10 – 12
Disponible Maintenant Contenu Legends of Runeterra Drop 4
Disponible Maintenant Contenu MLB Tap Sports Baseball Drop 3
Disponible Maintenant Contenu Mobile Legends Bang Bang Drop 2
Disponible Maintenant Contenu Paladins Drop 8
Disponible Maintenant Contenu Rainbow Siege Six Drop 5
Disponible Maintenant Contenu Red Dead Online
Disponible Maintenant Contenu SMITE Drop 8
Disponible Maintenant Contenu UFC Drop 4
Disponible Maintenant Contenu VALORANT Drop 3
Disponible Maintenant Contenu WAR OF THE VISIONS FINAL FANTASY BRAVE EXVIUS Drop 12
Disponible Maintenant Contenu World Farm Adventure Drop 1
3 Mai Jeux gratuits avec Prime – Yoku's Island Express, Healer's Quest Beholder, The Blind Prophet et A Blind Legend
3 Mai Dernière chance pour récupérer Move or Die Couch Party Edition, The Escapists, Moving Out, Aces of the Luftwaffe – Squadron et Before I Forget 
5 Mai Contenu Epic Seven Drop 9
5 Mai Contenu MapleStory M Drop 7
6 Mai Contenu Magic Tiles 3 Drop 22
6 Mai Contenu Darkness Rises Drop 8
10 Mai Contenu League of Legends Drop 13
12 Mai Contenu MLB Tap Sports Baseball Drop 4
12 Mai Contenu Alliance vs. Empire Drop 6
13 Mai Contenu Grand Theft Auto Online
19 Mai Contenu Epic Seven Drop 10
20 Mai Contenu Darkness Rises Drop 9
21 Mai Contenu League of Legends Drop 14
25 Mai Contenu MLB Tap Sports Baseball Drop 5
Arrive en Mai Contenu Madden Drop 9
SOURCE : COMMUNIQUE DE PRESSE – MINUIT DOUZE