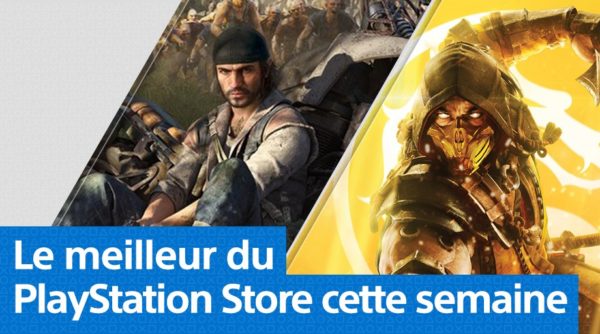 Playstation Store
Cette semaine le PlayStation Store propose une formidable sélection de jeux ! Affrontez des zombies dans Days Gone, battez sans pitié vos adversaires dans Mortal Kombat 11 ou aidez des dauphins à sauver l'environnement avec Jupiter & Mars.
Sorties de la semaine
Mortal Kombat 11
le 23 avril
Mortal Kombat 11 Premium Edition
le 23 avril
A Chair in a Room: Greenwater
le 23 avril
Jupiter & Mars (sauf en Belgique, au Luxembourg, et en Suisse)
le 23 avril
Tarot Readings Premium
le 23 avril
Street Fighter V Trial
le 23 avril
Deponia Collection
le 24 avril
Konrad's Kittens Bundle
le 24 avril
Zeroptian Invasion
le 24 avril
Counter Fight
le 25 avril
Counter Fight: Samurai Edition
le 25 avril
Days Gone
le 26 avril
Days Gone Digital Deluxe Edition
le 26 avril
Suicide Guy Bundle
le 26 avril
PS4 DLC
le 23 avril
Assassin's Creed Odyssey
Mortal Kombat 11
Shadow of the Tomb Raider
Just Cause 4
Gran Turismo Sport
Renault R8 Gordini '66
Toyota Sprinter Trueno 3door 1600GT APEX (AE86) '83
DiRT Rally 2.0
LEGO DC Super-Villains
Shazam! Movie Level Pack 1 & 2
Chocobo's Mystery Dungeon EVERY BUDDY!
Nelke & the Legendary Alchemists ~Ateliers of the New World~
Nelke & the LA: Costume Set for 37 Characters
Tesla vs Lovecraft
le 24 avril
Crossout
Horsemen of Apocalypse: Death (Deluxe Edition)
RIDE 3
le 25 avril
Train Sim World
Paladins
le 26 avril
Monster Hunter: World
SOURCE : COMMUNIQUE DE PRESSE – PLAYSTATION FRANCE